Public participation, a new regional agreement twenty years after Aarhus: The Escazú Convention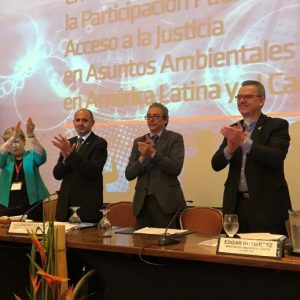 On 4 March 2018, in Escazú, Costa Rica, the Regional Agreement on Access to Information, Public Participation and Access to Justice in Environmental Matters in Latin America and the Caribbean has been adopted by representatives from 24 countries. Signed at present by 15 States (Antigua and Barbuda, Argentina, Brazil, Costa Rica, Ecuador, Guatemala, Guyana, Haiti, Mexico, Panama, Peru, The Republic Dominican Republic, Saint Lucia and Uruguay), the agreement is open for signature at United Nations Headquarters in New York from 27 September 2018 to 26 September 2020 by the 33 countries of Latin America and the Caribbean contained in Annex 1 of the Agreement and, in accordance with Article 22, paragraph 1, shall enter into force on the ninetieth day after the date of deposit of the eleventh instrument of ratification, acceptance, approval or membership.
Twenty years after the Aarhus Convention on Access to Information, public participation in decision-making and access to justice in environmental matters signed by the member states of the Economic Commission for Europe as well as States with consultative status within it, the Escazú Convention appears as the second treaty to implement Principle 10 of the Rio Declaration on Environment and Development. We welcome this new step towards environmental democracy, hoping that it will be accompanied by adequate mechanisms for its effectiveness.