LINKS for texts below
LANDSCAPE NETWORK
TEXT OF THE EUROPEAN LANDSCAPE CONVENTION
Opened for signature by member states of the Council of Europe, Florence, 20 October 2000
Entry into force: 1 March 2004
Summary of the treaty
The Convention aims to encourage public authorities to adopt local, regional, national and international policies and protection measures, management and planning of European landscapes. It covers all landscapes, extraordinary and ordinary that determine the quality of life of the populations. The text provides a flexible approach to landscapes whose characteristics require various kinds of measures ranging from strict conservation to actual creation, through the protection, management and enhancement.
The Convention proposes legal and financial measures at national and international, aimed to formulate "political landscape" and to encourage interaction between local and central authorities as well as cross-border cooperation in protecting landscapes. It outlines a series of different solutions to be applied by States according to their specific needs.
The intergovernmental committees of the Council of Europe will monitor the implementation of the Convention. It also provides for the allocation of a Landscape Award of the Council of Europe to local or regional authorities or an NGO, to implement a policy or best protection measures and sustainable, management and landscaping.
Depuis 2010, le C.I.D.C.E. est membre de l'ONG CIVILSCAPE, réseau international qui se dédie à la promotion de la Convention Européenne du Paysage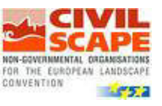 .