LIENS pour textes dessous / LINKS for texts below FRENCH
RÉSEAU PAYSAGE
TEXTE DE LA CONVENTION EUROPÉENNE DU PAYSAGE
Ouverte à la signature des Etats membres du Conseil de l'Europe, à Florence, le 20 octobre 2000
Entrée en vigueur : 1er mars 2004
Résumé du traité
La Convention vise à encourager les autorités publiques à adopter aux niveaux local, régional, national et international des politiques et mesures de protections, de gestion et d'aménagement des paysages européens. Elle concerne tous les paysages, extraordinaires et ordinaires qui déterminent la qualité du cadre de vie des populations. Le texte prévoit une approche souple des paysages dont les caractéristiques requièrent divers types de mesures allant de la stricte conservation à la véritable création, en passant par la protection, la gestion et l'amélioration.
La Convention propose des mesures juridiques et financières aux niveaux national et international, destinées à formuler des «politiques du paysage» et à encourager l'interaction entre les autorités locales et centrales ainsi que la coopération transfrontière en matière de protection des paysages. Elle expose une série de solutions différentes à appliquer par les Etats en fonction de leurs besoins spécifiques.
Les comités intergouvernementaux du Conseil de l'Europe surveilleront la mise en œuvre de la Convention. Celle-ci prévoit également l'attribution d'un Prix du paysage du Conseil de l'Europe à des collectivités locales ou régionales, ou à une ONG, pour la mise en œuvre d'une politique ou de mesures exemplaires et durables de protection, de gestion et d'aménagement du paysage.
ENGLISH
LANDSCAPE NETWORK
TEXT OF THE EUROPEAN LANDSCAPE CONVENTION
Opened for signature by member states of the Council of Europe, Florence, 20 October 2000
Entry into force: 1 March 2004
Summary of the treaty
The Convention aims to encourage public authorities to adopt local, regional, national and international policies and protection measures, management and planning of European landscapes. It covers all landscapes, extraordinary and ordinary that determine the quality of life of the populations. The text provides a flexible approach to landscapes whose characteristics require various kinds of measures ranging from strict conservation to actual creation, through the protection, management and enhancement.
The Convention proposes legal and financial measures at national and international, aimed to formulate "political landscape" and to encourage interaction between local and central authorities as well as cross-border cooperation in protecting landscapes. It outlines a series of different solutions to be applied by States according to their specific needs.
The intergovernmental committees of the Council of Europe will monitor the implementation of the Convention. It also provides for the allocation of a Landscape Award of the Council of Europe to local or regional authorities or an NGO, to implement a policy or best protection measures and sustainable, management and landscaping.
Depuis 2010, le C.I.D.C.E. est membre de l'ONG CIVILSCAPE, réseau international qui se dédie à la promotion de la Convention Européenne du Paysage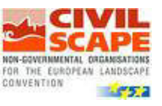 .