ARREST OF PROFESSOR MAURICE KAMTO : CALL FOR RELEASE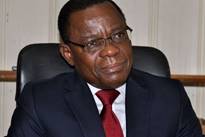 Professor Maurice Kamto, a prominent and respected Cameroonian jurist, former president of the UN International Law Commission, was arrested on 28 January 2019 in Douala.
A pioneer in the promotion of environmental law in the African continent, Professor Maurice Kamto published in 1996 the first authoritative French book entitled : Droit de l'environnement en Afrique.
The International Center for Comparative Environmental Law (CIDCE), which has repeatedly benefited from the scientific contributions of Professor Maurice Kamto for numerous publications and conferences on environmental law, calls for his immediate release and full respect of all his rights.
Prof. Michel PRIEUR, President of CIDCE.